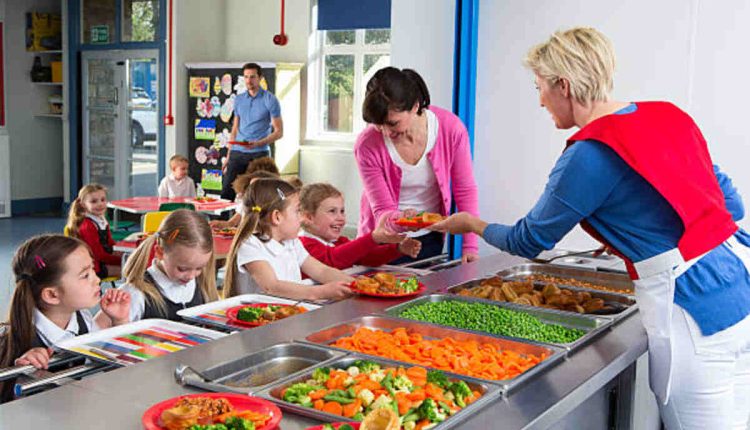 Managing the Moore Public Schools Lunch Menu
LSSD's Child Nutrition Department provides healthy school meals that enhance student learning and health, promote nutrition education and physical activity programs, and local food initiatives like the Farm to School and Garden Program.
Families can access and prepay for school meals through MealViewer's interactive online menu platform, which offers individual school menus along with allergen and nutrition data.
Breakfast
Rowena Combs oversees Moore School's food service department and its daily planning of 7,000 meals for students. She creates menus, purchases ingredients, and hires new food service workers – an experience she has gained over 17 years in school food service.
Combs is in charge of overseeing a budget of $7 Million and working with 21 school managers across her district to prepare food for a daily crowd at breakfast, lunch, and supper time.
MealViewer is an interactive website and mobile app provided by FSSD that enables students and parents to view individual school cafeteria menus, including allergen and nutrition information. Menus may change due to supply chain issues, weather, or equipment concerns.
Each school provides students with a selection of a la carte items available for purchase by them, which must include at least three out of five components – fruit, vegetable, protein, and grain (or an entree that may count as two items such as sausage biscuit) — in order to constitute a reimbursable meal. Milk is not mandatory as part of this meal.
Lunch
Each school offers students a menu featuring entrees, fruits, and vegetables served on a bread or bun for reimbursement meals. At least three components must be selected to qualify as a reimbursable meal, while milk or non-dairy beverage options may also be chosen from. Parents can access menus, nutrition, and allergen information about their child's school through the MealViewer online system or download the Nutrislice app to their mobile phone for quick reference.
Food service managers oversee the collection of breakfast, lunch, and a la carte items from students at their respective school sites. Prepayment for meals is strongly encouraged, but single purchases can also be made at the cafeteria. Students' account balances can be seen via the school menu or MealViewer app.
Rowena Combs, food services director for Moore Public Schools, enjoys planning daily meals for 7,000 students. Her workday begins at 6:30 a.m. when managers turn on ovens; four district kitchens then prepare food for other satellite schools such as Northmoor, Kelly, and Plaza Towers, which is ready at Central Elementary while East Hills Winding Creek is produced in Central Middle School kitchen.
Snacks
Snacks can come in various forms, from individually packaged snacks, fruit, vegetables, grains, or an entree that combines several of these components (like a sausage biscuit). After-school snacks must be provided under supervision in an after-school program, and schools that participate in the National School Lunch Program may receive reimbursement for one snack per student per day enrolled in their after-school program.
MealViewer provides online access to each school cafeteria menu and allows both students and parents to customize it based on allergens, nutrition information, and ratings for individual foods. Downloadable through the Apple App Store or Google Play, MealViewer makes ordering lunch more accessible than ever!
Meals for Students with Special Needs
The workload of over 7000 students daily requires dedicated planning of meals, and catering to special diets requires significant effort, making Rowena Combs, the Food Service Director at Moore Schools 21 schools' Food Service Department, an enormous task. She plans menus, orders supplies and foods, interviews prospective staffers, and oversees budgeting issues for the entire department.
Moore Public Schools provides lunch menus that can be tailored to accommodate students with allergies or other dietary restrictions, with monthly menu updates found on their district website and nutritional info available, as well as gluten-free and dairy-free options available to choose from. Students can customize their meals by eliminating or swapping out ingredients as desired.
Families whose students qualify for free or reduced-price meals can use RevTrak, the district's online payment system, to pay for them. Parents can set notifications that send an email whenever the balance of their student reaches a pre-set amount; families can also view account history and set automatic payment plans with it.
Students who were eligible for free or reduced-price meals during the prior school year but did not submit an application are qualified to carry over their eligibility for 30 operating days in the current school year, regardless of direct certification status or categorical eligibility status. Should family income levels change, however, new applications must be submitted.
Schools may conduct household income verification at any point during the school year, either through audits or by communicating directly with household members to obtain accurate verification data. School staff must work with state or federal agencies to identify categorically eligible students without needing to submit applications. Foster children qualify automatically for free meals/milk, so families of foster children should be encouraged to apply for benefits so their children receive proper nutrition assistance.
Moore Public Schools will soon implement a change that will see all elementary students participate in STEAM classes, dissatisfying state advocates for gifted education as well as some parents. The decision has caused outrage among state advocates for gifted education as well as some parents.