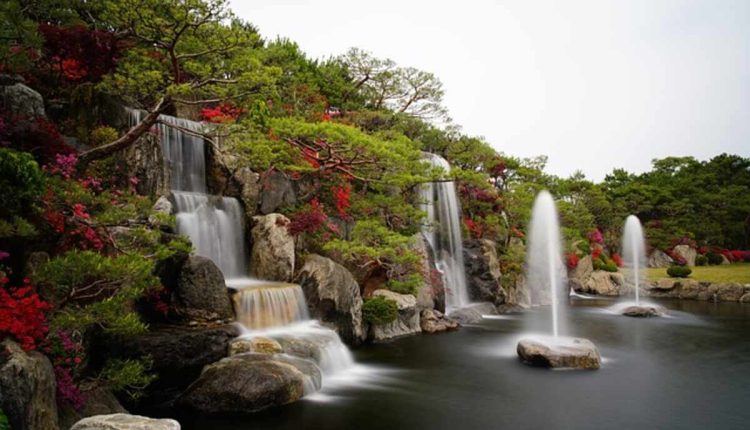 Creating a Waterfall Without a Pool
A "child-proof waterfall" or "pondless waterfall" is one that empties into a pond instead of emptying into a catch basin or cistern underneath. The gathered water is pumped back up the cascade to the source.
How comes Pondless?
Since ponds are only allowed to be 18 inches deep, or else you must adhere to all of the same building codes and requirements as a swimming pool (a six-foot fence perimeter, special gates, door alarms, etc.), I constructed a "childproof" waterfall out of reinforced concrete in 1984." Since this waterfall was in the front yard, it could not have a drop of more than 18 inches; otherwise, the pond would be entirely drained when the water returned to it via the waterfall. To make sure the water level in the collection basin would always be just right, I put in an electronic water leveler device. This style of water feature is "child-proof" because it satisfies all safety requirements, prevents accidents, and is code compliant. As rubber liners for waterfalls and ponds became commonplace in the early 1990s, this cascade style became known as a "pondless waterfall."
Temporary use of ponds and waterfalls constructed with rubber liners is acceptable. Rats, mice, ground squirrels, gophers, chipmunks, tree roots, sharp items, huge rocks, etc., can all cause harm. In an article titled Pondless Waterfalls: Concrete vs. Liners, I describe the significant problems of pond liner construction. This article proves that using concrete and steel to construct a pondless waterfall is more cost-effective than purchasing a pondless waterfall liner kit. In addition, it requires less money to run and keep up.
If you want your waterfall to look natural, dig it into the ground and remove a lot of dirt. Many builders make the error of elevating it over the original grade instead of keeping it at that level. It is unnatural for rocks to protrude from the ground like that. This is especially true if the rocks that make up the waterfall are the only ones seen from the surrounding bank, slope, or grade. The waterfall's rocks should create the impression that water has eroded the original surface soil and exposed the rocks underneath throughout the years as it flows down the hill or bank.
Rebar
Apply the 3/8″ rebar 8 to 10 inches in the center, crisscrossing each other and attaching them in a grid with a tie wire. The grid is then supported by minor, 2″ x 2″ bricks called dobies, which are elevated off the ground. When pouring concrete, it must encase the rebar entirely. Rust will form on every rebar that comes into contact with the ground. And much like cancer, rust will metastasize and travel along the rebar into the rest of the concrete. The rusting process causes the rebar to expand, just as it would if it had absorbed moisture. Hydrologically, the enlarged rebar generates cracks in the concrete.
Plumbing
Instead of rigid pipes, flexible PVC pipes may be easily bent and twisted to fit around obstacles and over rough terrain. More importantly, though, is that underground fittings like elbows and couplings won't be necessary if you use flex.
Following the waterfall's path, the flex can be installed beneath or beside the rebar. Using sump pumps, which consume significantly more power than centrifugal pumps (60% more), is a significant drawback to liner-built pondless waterfalls. Next, they dump gravel into the pump's cistern, making less room for water. When the waterfall is turned on, the catch basin or cistern quickly empties, and the water pumped out must first be replenished by rain. Because of this, the basin needs to be refilled regularly to prevent the pump from drying out and overheating. Since you can't see the water level in the catch basin of a pondless waterfall, a trustworthy water leveler is an essential addition.
Building using Concrete
Basins made of concrete can have anti-vortex suction drains added in their bottoms, similar to those seen in swimming pools. The basin can then be covered with galvanized grating and concealed with rock.
The gravel has been removed, and the basin is now empty, providing ample space for water storage. The water can be circulated using a high-efficiency centrifugal pump away from the pond. Centrifugal pumps, which are used in liner construction, have many advantages over sump pumps, including reduced energy consumption by 60%, ease of maintenance, a warranty that is three times as long as the life of the pump, and a lifespan that is four to five times as long.
Use in the Real World
Concrete pumpers typically charge only a few hundred dollars, and they all know how to apply concrete to waterfall rebar properly. Since a smooth finish is not required with troweling, anyone may accomplish it. Simply knock down and sponge smooth any sharp corners.
Most pondless waterfalls only need two or three yards of concrete, adding another $100 to $125 to the total cost. Look at what only the liner kit would cost (without any installation)! Check out what comes up when you google "Pond liners vs. concrete."
Don't throw your money away on a quick fix. Reinforced concrete is the clear winner for both price and lifespan.
Take a look at a YouTube tutorial.
Over the past 30 years, Master Waterfall Builder Douglas C. Hoover has designed and built over 2,000 waterfalls and ponds throughout California. Hoover also works as an architect and an engineer. The e-book version of the author's "Waterfall and Pond Construction Manual," originally retailed for $49.00, is currently $14.95. Discounted from $149 to just $39.95, "The Ultimate Training Course" is a steal. Developed the AquaFill electrical water level control system with water features such as ponds, pools, fountains, and spas.
Read also: Strategies for Using Commercial Construction Contractor's Service.